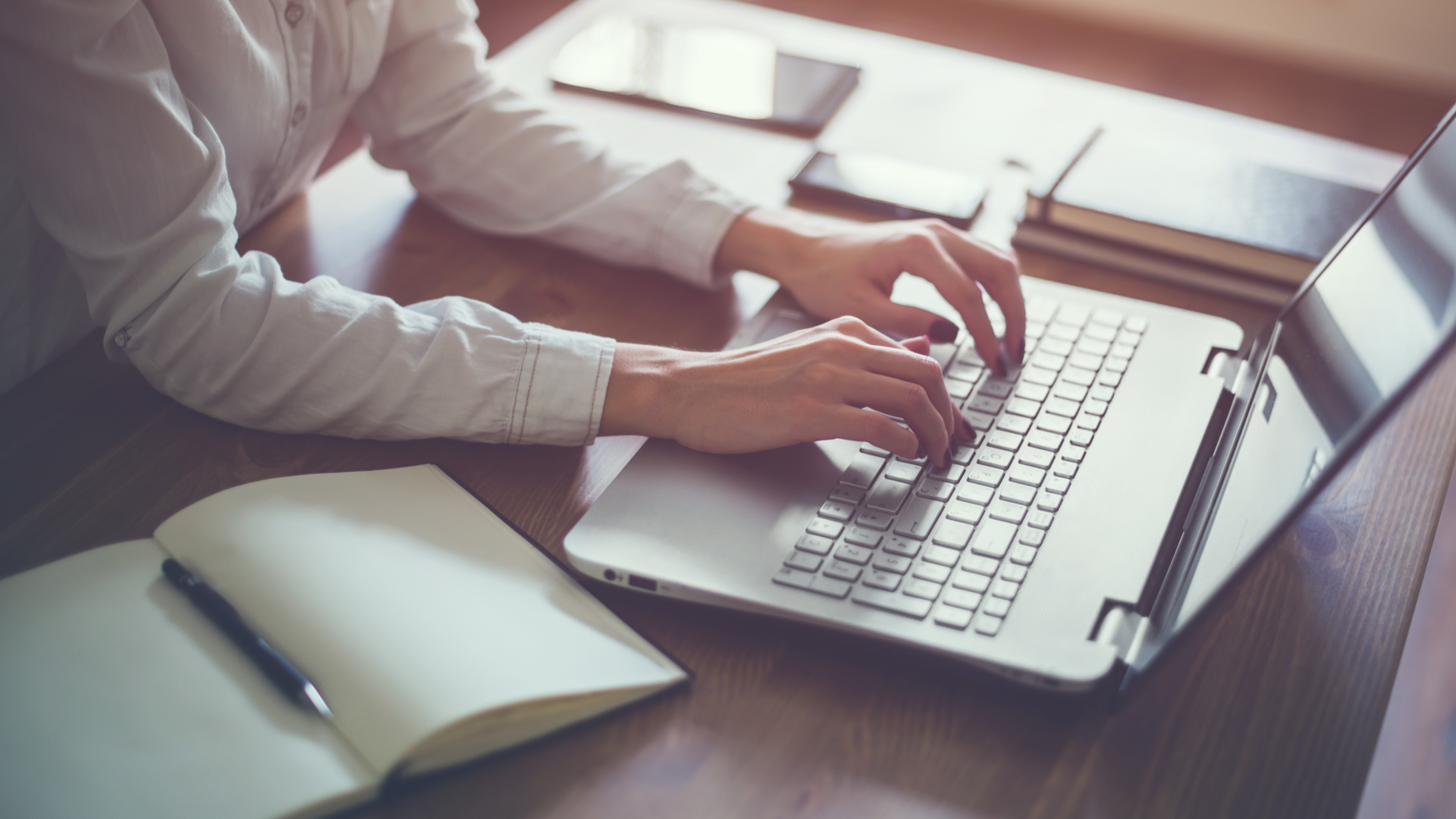 Many industry professionals and event organizers are looking for other options to keep business operating as normal. With the challenges of social distancing and limited travel due to COVID-19, many organizations are rethinking their event plans. But instead of cancelling or postponing, some companies are opting to host virtual events.
Last week I had the pleasure of attending Rockwell Automation's first VirtualConnect conference on Smart Manufacturing. According to Rockwell Automation, VirtualConnect brings everyone from end users and machine builders, to technical and sales teams together to examine Smart Manufacturing in the automation industry. I registered as an attendee to learn and network, while some of my coworkers at Maplesoft manned our virtual booth. The conference was hosted on an interactive web platform and included everything you would expect from an in-person event, minus the coffee and croissants. This post highlights my experience at VirtualConnect, along with some of my recommendations for attending a virtual event.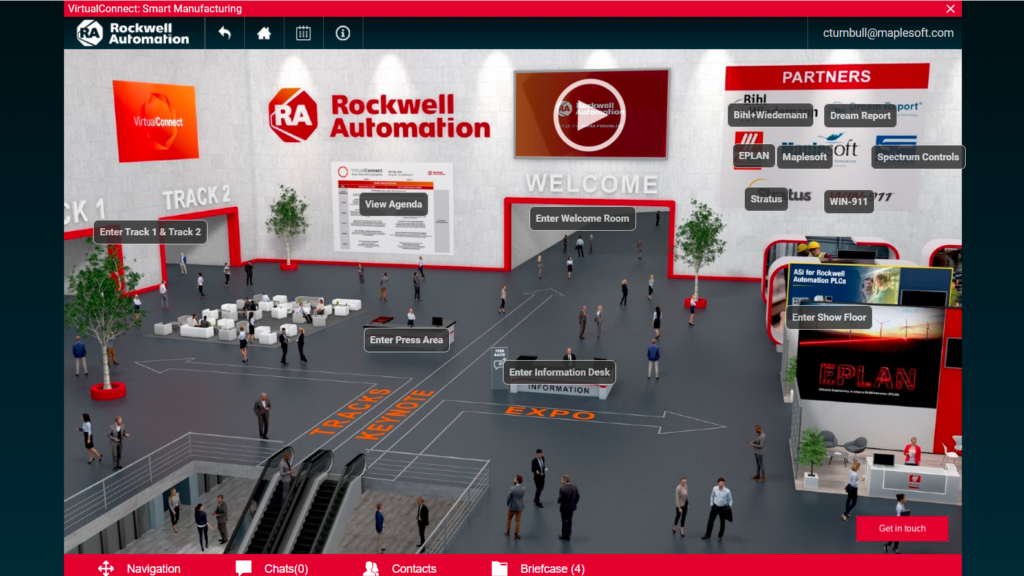 Digital Show Floor
Attendees had the option to 'walk' the digital show floor, which featured virtual booths from Rockwell Automation and partners including Maplesoft, Stratus, Biehl+Wiedemann, Dream Report, ePlan, Spectrum Controls, and WIN-911. A virtual briefcase was provided for attendees to download and store brochures, whitepapers and information sheets from each booth. Attendees could also chat with experts and Rockwell Automation staff to learn more about products and solutions featured in the presentations.
One downfall was that a company representative couldn't directly engage with an attendee. I definitely missed the ease of conversation, and it was much easier to just browse the resources, add them to the virtual briefcase, and move on. While some of you may appreciate that aspect of a virtual event, I certainly missed the interaction!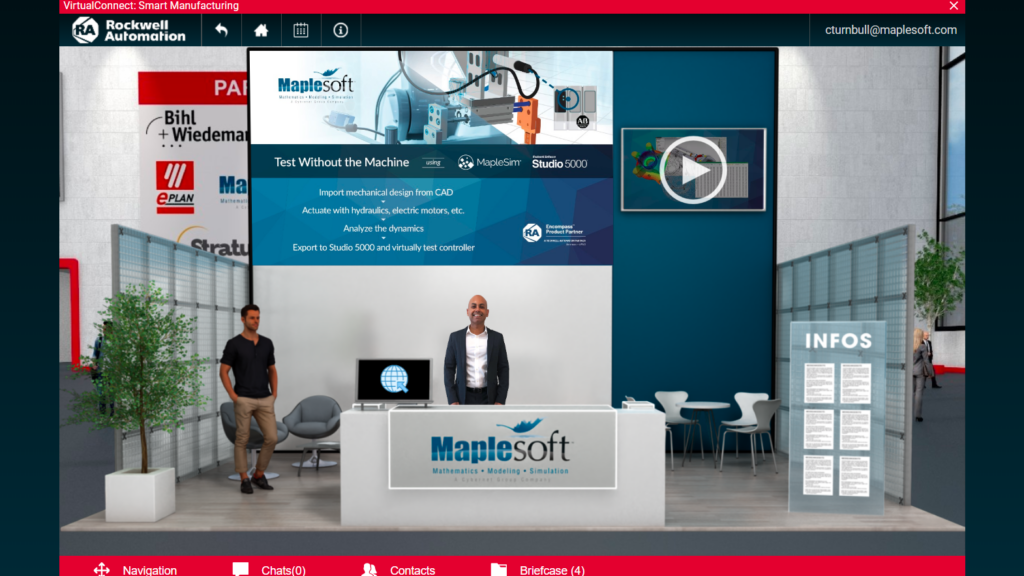 Presentation Sessions
One thing I didn't miss: the mad dash across a giant conference hall to find the session! This event offered two content tracks for manufacturing professionals to immerse themselves in the latest industry trends. The first track, the "Smart Machine Journey", offered attendees training on smart devices and machines including sensors, safety devices, motor control, smart controllers, and security in the Industrial Internet of Things (IIoT). Track two, the 'Digital Transformation Journey', looked at tools such as AR, digital twins, and big data analytics, as well as Rockwell's Connected Services to provide listeners with strategies on reducing risk and maximizing uptime.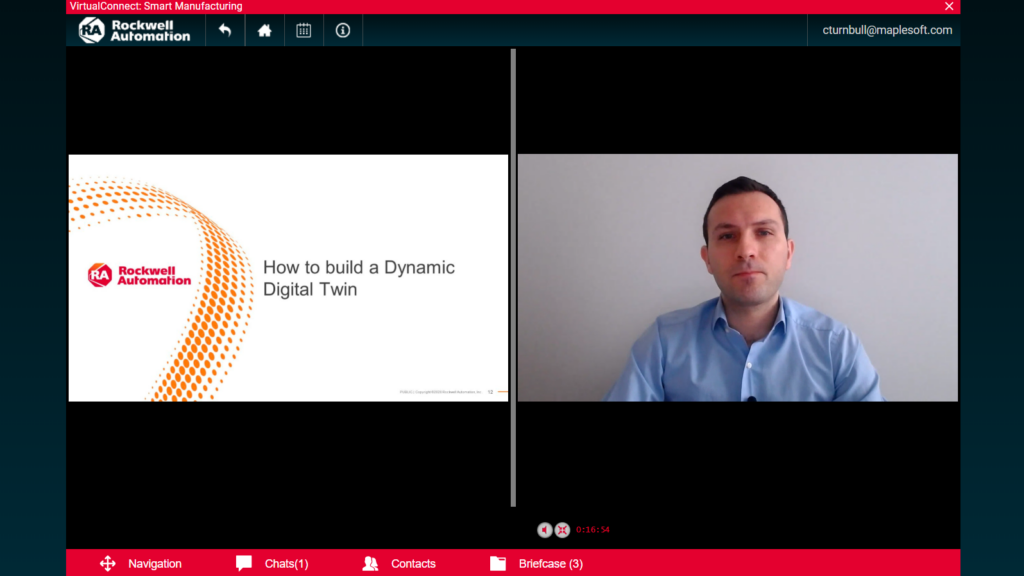 Each presentation concluded with a live Q&A session in which the participants could ask the presenter questions and provide comments. In addition, a virtual lounge was provided to attendees to network and connect with peers, presenters, and industry experts. Visitors were able to access the lounge at any point during the event and it provided a place for general conversation throughout the event.
My recommendations for attending a virtual event:
Plan your schedule. Preview the agenda ahead of time to see what sessions are relevant and interesting to you. This way you can prioritize your time and be ready to go when the conference starts. It's also helpful to block time in your calendar to keep you on track and engaged with the event.
Connect with other attendees. A virtual event has the disadvantage of not having a room full of people to network with, but use the chat and other tools to make those connections. Often there are conference hashtags and live chats for virtual events so take advantage and network with other attendees.
Minimize distractions. While it's easier said than done, you want to be "present" to get the most out of the conference. It's easy to get distracted and to multi-task with other work duties, but try to reduce notifications and tune-in. I find having a notepad to jot down thoughts keeps me focused.
In case you missed something, the entire event is available to watch anytime on demand. View the sessions you were unable to see live, re-watch presentations you found useful and walk the digital show floor by visiting the VirtualConnect hub.
While the current situation forcing events online might be temporary, the trend of virtual events likely isn't. Now is the time to embrace this new reality, make yourself a coffee, and prepare to learn from the comfort of your couch!