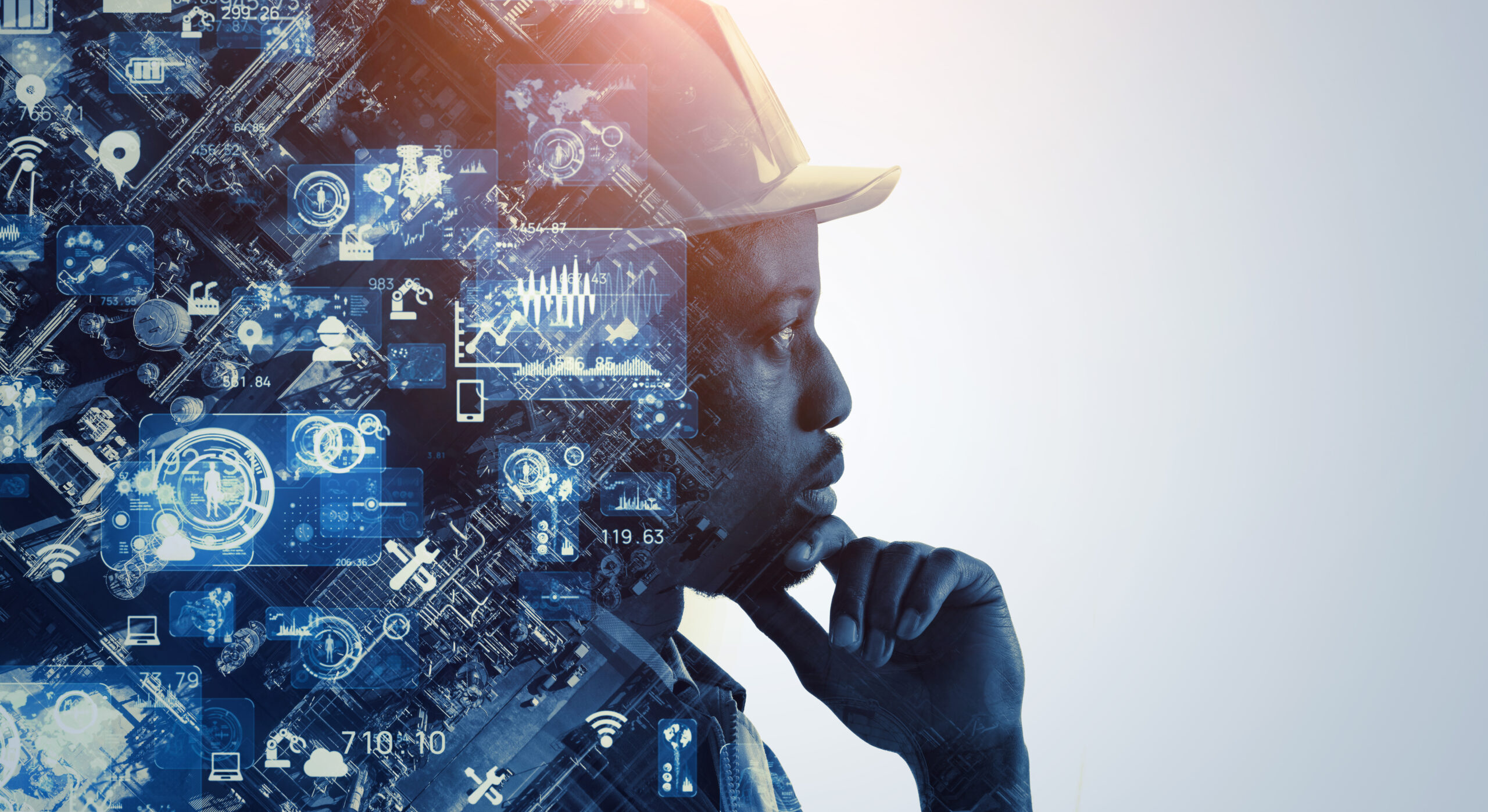 As 2020 wraps up, you've no doubt been exposed to talk of digital twins and virtual commissioning. Perhaps you attended one of several key automation events this year (some of which are still online), or you found that the COVID pandemic forced new changes in how you work. You're now either working with a virtual commissioning solution, or asking yourself exactly what kind of virtual commissioning solution is best for your projects.
We've covered different types of virtual commissioning solutions here before, and described how different kinds of digital twins play into these solutions. In this 2-part post, let's take a deeper look at some of the applications you might be considering, and match those to different solutions. In general, all of this applies even if you aren't using Rockwell solutions – but for clarity's sake, we'll reference the specific tools that apply to the Rockwell environment.
Here's a quick refresher on the different kinds of simulations that will find their way into your automation projects – see the picture below.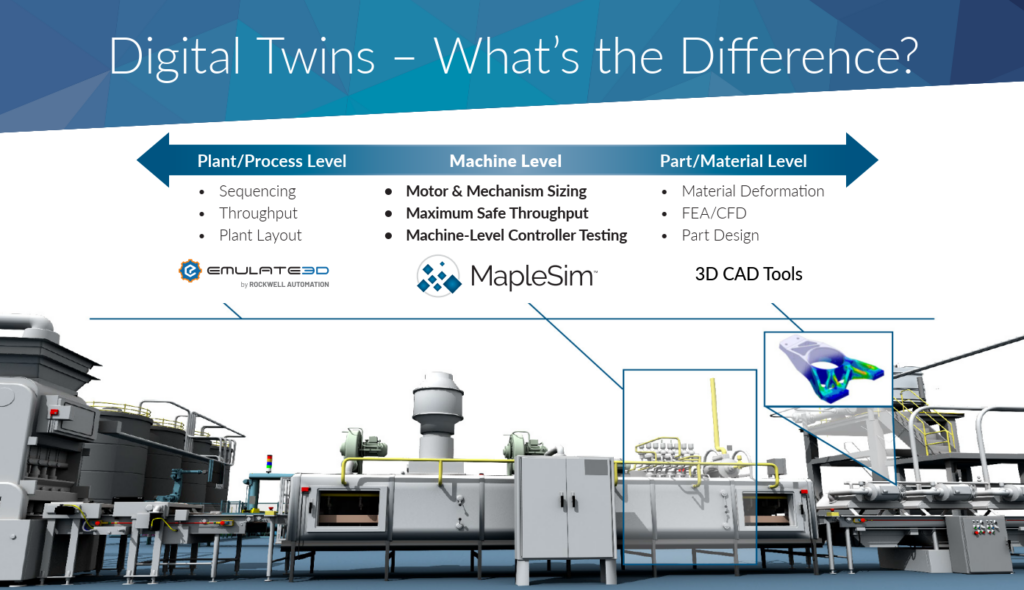 Throughput Simulation of a Single Machine
In this application, you're trying to simulate and understand the throughput of a single machine, and gain insight into the machine's cycle time – seeing how the machine moves through it's motion profile.
One of the main reasons you'd want to simulate the throughput of a single machine is to find efficiencies in the machine's dynamics. You might want to optimize the cycle times, reduce load spikes during a motion profile, or ensure that the machine operates well within safety limits.
These are dynamic, machine-level questions that require a virtual commissioning solution that can take actual machine physics into account. In this case, you'll want to use a physics-based digital twin, which is the simulation backbone for machine-level virtual commissioning.
Physics-based digital twins are created in modeling and simulation tools. In the Rockwell environment, you can use MapleSim, a physic-based simulation tool for creating digital twins. It's important to note that the creation of these digital twins is often what makes first time users stumble, as they consider how to bring these skills in house. Maplesoft, like other companies in this space, usually offer digital twin creation services – meaning you can get your project going, and commit to skills development only if you're looking to really incorporate this technology into your workflows. Typically, you just need to provide your CAD data, along with some details on the parts you're considering, and the digital twin creation can begin.
You'll now use this digital twin for machine-level virtual commissioning. As a Rockwell Encompass Partner, Maplesoft's technology is designed to work with Rockwell's tools and technologies, so you can import this digital twin into Rockwell's Studio 5000 Design Environment (Simulation Interface & Logix Designer) for your control code testing. When you're designing and testing your control code, you're now going to have the ability to run the control code on the digital twin. You'll be able to get accurate, simulation-based response from your control code, and see how the various components (mechanical, hydraulic, electrical, and more) are actually working together to run the machine.
With all this rich information, you'll be getting information that's almost like the feedback you'd get when testing on the actual machine. You're not just seeing the simple kinematics or timing sequences of the machine – you're actually seeing the physics of everything come together – and you'll be able to optimize your control code to get the best throughput possible from your design.
Throughput Simulation of Production Line
For a production line, you've got multiple pieces of equipment working together on production. The throughput of each machine has to be carefully controlled to work in unison with the entire line.
When you're looking at the throughput of an entire line, you're probably not focused on the more complicated dynamics of each machine (and if so, just use the solution described in the first part of this post). You're mainly concerned with the sequence of events across your entire line – the movement of your machine (kinematics), and how those movements are synchronized across multiple pieces of equipment. With this kind of simulation, you can modify the processes on your line, and optimize all the events together to optimize the flow of product – all without needing the full line physically in place.
You're still going to want a digital twin and a virtual commissioning approach to optimize your processes effectively. In this case, you'll be looking at a plant-level digital twin and process-level virtual commissioning.
The terminology here isn't exact in the industry, so as you consider creating (or contracting out) a digital twin, it might be called a dynamic digital twin, a process-level digital twin, or other similar terms. The important thing to note here is that these are digital twins created for plant simulation purposes – they don't require the detail or high-fidelity, multidomain (think hydraulics, precise loading profiles, etc) physics that might go into a machine-level digital twin.
For both the digital twin, and the process-level virtual commissioning solution, you might turn to Emulate3D, a solution provided by a Rockwell-owned company of the same name. Emulate3D provides tools that are part of the Rockwell FactoryTalk DesignSuite. You'll be able to get 3D digital twins based on your CAD models, and they will form the 3D environment where you can visualize your plant.
These digital twins have all the right data required for the virtual commissioning of your line's throughput. The movement (kinematics) of all the equipment are simulated together, and you can see how all the individual events are working together in your line. Long before you've got a physical line on the shop floor, you'll be able to visualize material flow, identify bottlenecks, and find simulation-based opportunities to increase your throughput.
If you're honing in on a specific machine and need to really optimize a single piece of equipment, then you might consider a blended approach that uses both technologies. With both technologies together, you'll be sure to squeeze the most performance out of each individual machine, and then finally get your plant's throughput maximized even further with the process-level virtual commissioning strategies.
Other Applications
In our next post, we'll keep looking at different applications under the umbrella of virtual commissioning, and decide the best technologies to approach them. Stay tuned for a discussion on safety testing, plant visualization, and more. Let us know if the comments if there's an application you want to see covered.